All Coin Sorters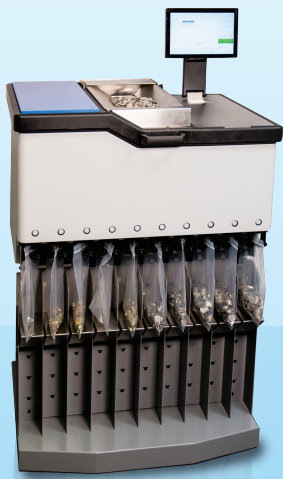 Overview
SuzoHapp ICX Active-9 Coin Sorter
The ICX Active-9 is an all-in-one coin solution for any coin sorting need. This brand-new active coin sorter is designed for applications needing the power of a mid-range industrial coin counter machine. Its high accuracy, speed and reliability enable businesses to process up to 250,000 coins daily.
This industrial coin counter and sorter machine harnesses unique Active Sorting® Technology to support outstanding features and performance. It is capable of processing multiple currencies at once into 9 coin outlets (plus 1 for rejection), with throughput of up to 2,700 coins per minute.
The power of the ICX Active-9 is enhanced by its flexibility and easy to use, thanks to its 10" LCD touchscreen user interface. It's easy to configure for different denominations, and provides cash management data to help you understand your cash flow and optimize your business.
Specifications
Basic dimensions (WxDxH*)

770 mm x 614 mm x 547 mm
(30.3" x 24.2" x 21.5")

Key Product Features

Active Sorting®
9 coin outlets plus 1 for rejection
Processing up to 2,700 coins per minute
10" touchscreen user interface
Low power consumption
Either desktop or standalone solution
3 USB for accessories or peripherals
One ethernet port for networking
Additional input and output for accessories
Coin outlets are spaced identically to the ICP Active-9 and SC-4000
Configuration by standard P-5000 service program

* The height is without the floor stand and the touchscreen