All Coin Sorters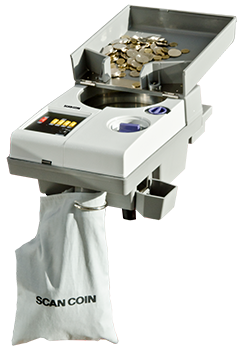 Overview
SuzoHapp SC-303 Coin Counter
With counting speeds up to 2,700 coins per minute, the SC-303 coin counter is a real time-saver, providing a reliable solution for banking, retail, amusement, cash in transit, concessions, casinos, and other businesses that need to count, verify or bag a lot of coins or plastic tokens.
The careful engineering and compact design of this coin solution enhance its value. While the speed and reliability of the SC-303 rival many larger industrial coin counter machines, it's small enough to serve as a portable coin sorter. It can fit wherever you need to use it, and incorporates a carrying handle to make transportation a breeze.
The SC-303 is also very quiet, which makes it a great fit for backroom work spaces and other applications where low volume is desirable. If you need a machine that can hold a high volume, the SC-313 is also a great choice. It offers all the same functions of the SC-303, but has a high capacity hopper instead of a tilting coin tray.
Specifications
Width

220 mm/8.7"

Depth

370 mm/14.6"

Height

165 mm/6.5"

Weight

8.4 kg/18.5 lb

Voltage

100-130/220-240 V, 60/50 Hz

Power

40 W

Speed mixed/single denom

Up to 2,700 coins/min (mixed)
Up to 3,820 coins/min (single)

Diameter

14-34 mm/0.55-1.34"

Thickness

1.0-3.4 mm/0.04-0.13"

Hopper capacity

3,000 cc (3 litres)