All Coin Sorters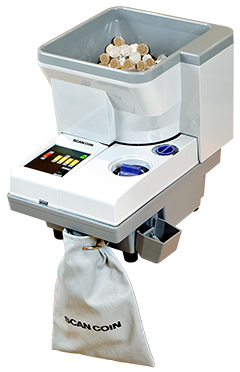 Overview
SuzoHapp SC-313 Coin Counter
With counting throughput up to 2,700 coins per minute, the SC-303 is a powerful commercial coin counter and sorter in a compact form factor. Its reliability and speed make it an ideal coin solution for banks, retail stores, amusement parks, casinos, cash in transit, concessions, and any other operation that needs to process high volumes of coin and/or tokens.
Compact design enhances the machine's versatility. The SC-313 is an extremely portable coin sorter, capable of fitting into cramped work rooms and tight spaces, where every square foot counts. However, despite its small size, the counter/sorter comes with a high-capacity automatic hopper, saving time feeding the machine.
If portability is your top priority, you should also consider the SC-303. It offers the same impressive performance, but it has a carrying handle, and a lower-capacity sliding tray instead of a hopper.
Specifications
Width

260 mm/10.3"

Depth

370 mm/14.6"

Height

315 mm/12.4"

Weight

11.6 kg/25.6 lb

Voltage

100-130/220-240 V, 60/50 Hz

Power

55 W

Speed mixed/single denom

Up to 2,700 coins/min (mixed)
Up to 3,820 coins/min (single)

Diameter

14-34 mm/0.55-1.34"

Thickness

1.0-3.4 mm/0.04-0.13"

Hopper capacity

3,000 cc (3 litres)