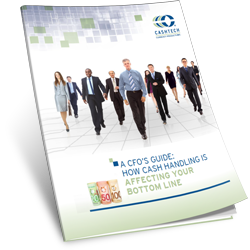 How Much Does Handling Cash Really Cost Your Business?
It's one of the greatest paradoxes you'll come across in the retail world: the more money you make, the more it costs your business to handle cash. While you definitely wouldn't want to wish for fewer happy customers stopping by your stores and spending money, if you know about the true cost of handling cash, you're probably wishing you had a way to tighten things up a bit and cut down on this expense. Thankfully, with a deep look at the problem, why it's growing, and how tools like currency counting machines can help stymie the flow of funds back out of your business, you'll be well on your way to breaking down the costs that come with handling cash.
In this whitepaper we take a look at:
Problems with cash handling
How to determine the cost of handling cash
Cash handling mistakes you're making
How to remove the risk from handling cash
Read this whitepaper to learn more about the cost of cash handling and find out how your business can benefit from cash management solutions.