SETUP & TRAINING AND ONGOING MAINTENANCE
Service and support included in your complete cash management package ensures maximum availability and efficiency of your cash management hardware and software.
CashTech's Complete Cash Management Package Overview
CashTech Currency's complete cash management package is an industry-leading turnkey solution that offers everything your business needs to implement effective cash management, quickly and easily.
Our cash management packages include your choice of industry-leading smart safes or coin and note recyclers, software integration, device setup & user training, and comprehensive ongoing maintenance to support your business's continued success.
Setup & Training
While cash management solutions are simple to use over time, having an expert set up the hardware, configure the software, and train staff will get you up and running quickly. Training will also ensure you use the technology to its full potential to maximize your benefits.
Setup

Installation Scheduling
We will conduct a site inspection to prepare for the on-site equipment installation.

Hardware and Software Configuration
We will set up users and permissions, as well as test the networking capabilities, prior to installation.

Installation
As part of your cash management package, we will install your hardware of choice on site and finalize your software setup
Training

Training the Trainer
To set up your business for continued success, we'll train a trainer to ensure someone in the company always knows how to pass on knowledge.

Software Training
To ensure everyone is confident in using the new software, we'll conduct software training with management, departments, users, and HR.

Operational Hardware Training
Management, users, and all relevant personnel should know how to effectively use your new smart safes or coin and banknote recyclers. That's why we offer comprehensive hardware training.

A "Day in the Life" to Walk Through New Daily Processes
Cash management automation will transform the way you handle cash. To get you ready for your new daily processes, we will conduct a "day in the life" walkthrough.

Post-Installation Follow-Up (30 and 60 Days Out)
We want you to get the most out of your new cash management solution. That's why we offer post-installation follow-up visits 30 and 60 days later to answer your questions and ensure you feel confident using the new technology.
Ongoing, regular maintenance of your hardware and software is included in your cash management packages. Having trained technicians diagnose and correct errors early will limit device downtime, ensure continued efficacy, and extend the life of your technology.
In the wake of the COVID-19 pandemic, all CashTech technicians are currently adhering to and complying with up-to-date public health measures when providing service and training. When possible, services will be conducted remotely.
Maintenance Services We Offer for Cash Management Packages

We can receive and store your inventory for immediate or future deployment. Deployment services include asset tagging, quality-assurance testing, and shipping to end-user locations.

Onsite services include installation, maintenance, break-fix, or exchange services to restore equipment to its optimum operating condition. Scheduled preventive maintenance visits are also included in our onsite services.
Software Support and Maintenance
We take a proactive approach to software support and maintenance with regular system checks and software updates. Our product experts are always ready to resolve your software issues quickly and efficiently.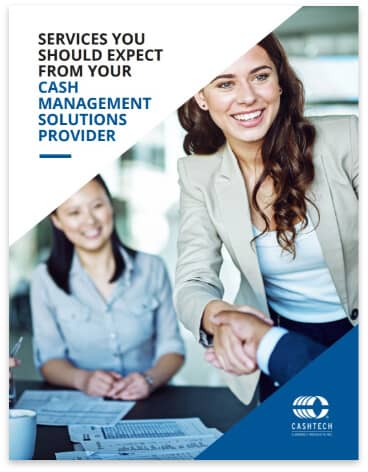 What to Expect From Your Cash Management Solutions Provider
Your partnership with your cash management solutions provider should go beyond the hardware purchase. Discover which services you should expect to receive.