CashTech Complete Cash Management Package
The Smart Way to Manage Your Company's Cash
All-in-one cash management hardware, software, service support, and training
CashTech Currency offers an industry-leading turnkey solution for cash management. This end-to-end solution offers everything you need to implement and manage smart safe or coin and note recycler hardware and software, with the training and expert service you need for more efficient cash management.
Cash Management Package Overview
Hardware Overview
Start your cash management journey by choosing among a variety of state-of-the-art smart safe or cash recycler hardware. Our turnkey solution is agnostic, meaning you can choose the right brand and model type that works best for your business.
Hardware options include enhanced security options, such as biometric (fingerprint reader), magstripe, and barcode scanners. Hardware options are dependent on the model chosen.
Cash Management Software
CashTech's cash management software offers you the insights you need to effectively track, manage, and understand your cash position at any given time from anywhere. With greater visibility of transactions, staff activity, and devices, you'll benefit from lower costs, informed decision-making, and greater cash security.
Our software options include SUZOHAPP CashComplete Connect and CashTechIQ.
Cash management software has a wide range of capabilities, including cash analytics and forecasting, cash status and utilization, device management, cash order management, deposit management, user tracking, and more.
Service & Training
We offer end-to-end service and training to ensure your smart safe hardware and software are up and running efficiently in no time. From initial setup, management and user training to ongoing maintenance, we handle every aspect of cash management implementation, service, and support.
In the wake of the COVID-19 pandemic, all CashTech technicians are currently adhering to and complying with up-to-date public health measures when providing service and training. When possible, the installation site review will be conducted remotely.
Getting Started with CashTech's Complete Cash Management Package
Discovery Call

We will first conduct a discovery call to learn more about your business and needs. We will cover the following topics:

Overview of your business requirements
The pros and cons of a deposit safe vs. a recycling safe
Approximate volumes of cash, your budget, and space requirements
How much time you currently spend on cash management and where you're losing time

Business Assessment

CashTech will conduct a review of your answers and will assess your needs to provide you with the best recommendations to meet your needs.

Recommendations & Quote Review

CashTech will review the package with you:

Hardware/software
Process improvements to increase efficiency and reduce risk
User/Access structure and permissions
Getting Started with Smart Safe or Coin and Note Recycler Installation
Installation Scheduling (In Person or Remote)

We need to assess the installation process so we're prepared for equipment installation. This requires a site inspection, our experts highly recommend in person site inspections, but can be performed remotely for special cases.

Hardware and Software Preconfiguration

CashTech will preconfigure your hardware and software with things like user setup, permissions and test the networking capabilities to minimize onsite installation time.

Installation & Training

Onsite installation of the hardware, finalized software setup and team training are included in installation.

Train the Trainer
Process & Hardware Operation
Software Training (Management, Departments, Users, HR)

Ongoing Maintenance & Service
To ensure your investment is running optimally, CashTech can work with you to schedule regular maintenance of your hardware. Service coverage options are available to ensure that a fully trained and certified technician arrives onsite to assist should any issues arise.

Deployment Services

Onsite Service

Express Depot Services

Depot Services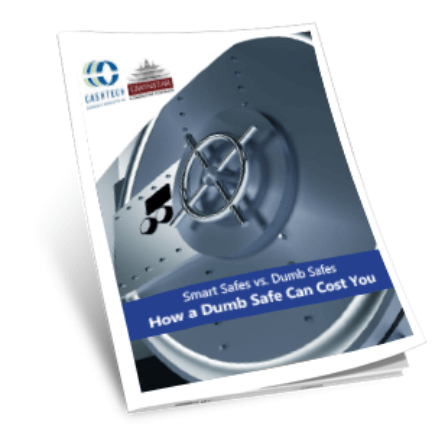 Smart Safe vs Dumb Safe: How a Dumb Safe Can Cost You
The traditional business safe has been revolutionized. Today's smart safe technology can not only keep your cash safe but also offer cash insights, analytics, reporting, and remote management. Download this whitepaper to discover the differences between a smart safe and a dumb safe and why outdated safe technology might be costing you more than you realize.