We are proud to service all of the "Big Five" banks in Canada, as well as prominent banks across the US. Banks and credit unions have realized the importance of cutting the costs of handling cash and cheques, streamlining operations, and enhancing the client experience.
CashTech offers cash management and cheque scanning solutions to assist in delivering the needed efficiencies in customer transactions, vault buys/sells, and day-end balancing while also reducing exposure in the branch and improving security for clients and banking staff.
As branch footprints continue to shrink, cash management and cheque scanning solutions must accommodate more creative and constrained workspaces. We offer several teller cash management solutions that fit the most compact of footprints. To help our banking customers move toward leaner staffing models and support the changing role of the traditional teller/CSR to that of a "universal banker," our cash handling and cheque scanning solutions also assist in simplifying overall teller operations.
CashTech also takes the hassle out of equipping, maintaining, and servicing your bank branch peripherals by handling the entire process for you, from end to end with our all-branch services. We are also a leading provider of customized remittance processing equipment solutions and servicing. We have a secured parts channel and hardware diagnostics to support remittance products for years to come.
Let us show you how our solutions can provide you the following:
Efficiencies and improved accuracy
Enhanced teller productivity
Increased branch cash security
Time to focus on customers
Cross selling new accounts & products
Attracting branch visits with a destination service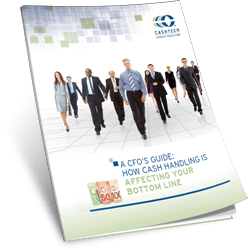 Free Download
A CFO's Guide: How Cash Handling Is Affecting Your Bottom Line
Read this white paper to learn more about the cost of cash handling and find out how your business can benefit from cash management solutions.
Get My Copy