CashTech is proud to have worked with all of the "Big Five" Canadian banks, as well as prominent banks and credit unions across the United States. Banks and credit unions have realized the importance of cutting the costs of handling cash and cheques, streamlining operations, and enhancing the client experience.
CashTech offers cash management and cheque scanning solutions to assist in delivering the needed efficiencies in customer transactions, vault buys/sells, and day-end balancing, while also reducing exposure in the branch and improving security for clients and banking staff.
As branch footprints continue to shrink, cash management and cheque scanning solutions must accommodate more constrained workspaces. CashTech offers several teller cash management solutions that fit the most compact of footprints. To help our banking customers move toward leaner staffing models and support the changing role of the traditional teller/CSR to that of a "universal banker," our cash handling and cheque scanning solutions also assist in simplifying overall teller operations. We are also a leading provider of customized remittance processing equipment solutions and servicing. We have a secured parts channel and hardware diagnostics to support remittance products for years to come.
CashTech has recently created a best-in-class, turnkey cash management system designed specifically for banks and credit unions to white label and sell directly to their own retail clients. CashTech provides everything you'll need to add this powerful new offering to an existing portfolio of commercial products, including a ready set of marketing and sales materials, and a complete partner network. The benefits of white labelling CashTech's CMS include,
Add value to your commercial portfolio by offering a compelling new product/service
Automate your clients' cash management to reduce the work burden in the branch
Strengthen your client relationships
No investment required to create a best-in-class cash management system
Leverage CashTech's sales and marketing resources
Compete in the cash management industry with a superior product and service offering
Add a new revenue stream
Let CashTech show you how our solutions can provide
Efficiencies and improved accuracy
Enhanced teller productivity
Increased branch cash security
Time to focus on customers
New accounts & products
More branch visits with a destination service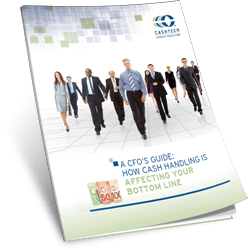 Free Download
A CFO's Guide: How Cash Handling Is Affecting Your Bottom Line
Read this white paper to learn more about the cost of cash handling and find out how your business can benefit from cash management solutions.
Get My Copy