Effective cash management solutions are mission-critical for the gaming industry. With streams of currency flowing in all directions, ensuring accuracy and security while keeping tables and machines stocked can be a costly and time-consuming task.
CashTech offers a wide range of currency handling equipment and cash management solutions for every stage of the process. We can help you quickly and accurately count, sort, and authenticate banknotes and Ticket-in Ticket-out (TITO) barcodes, and help reconcile the day's sales for casinos and gaming operations.
We work with many of the largest casinos in Canada to slash costs in cash handling and cash management across your operation. From dispensing floats to providing secure storage, our automation technology and currency handling equipment removes bottlenecks and improves efficiency, while enhancing cash flow visibility.
Our cash management solutions empower your people to do their jobs better, enabling casino managers, count room managers and accountants to reduce potential currency losses, increase security, and improve cash flow with frequent and large volumes of cash and cheques. Additionally, CashTech equipment is easy for casino cashiers and staff to use for counting and sorting cash and currency, freeing them up to service customers.
We help casinos like yours improve productivity by:
Offering world-renowned brands such as Magner and SUZOHAPP
Supplying top-rated compact money counters, large-batch table top currency sorters and various sizes of coin sorters and wrappers in our array of solutions
Helping cashiers and cash room staff quickly administer reconciliation and deposits with equipment to strap and wrap cash and coins
Offering employee/staff ID Card printing and issuing systems to maximize security
Enabling casinos to create customer loyalty player cards and passes and easily print them on site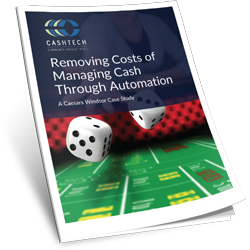 Case Study
How We Helped a Casino Remove Cash Management Costs Through Automation
Download this case study to learn how we helped Caesars Windsor remove costs associated with managing cash through automation.
Get My Copy