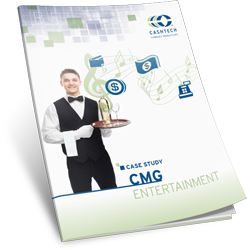 Our client, CMG Entertainment, is the business owner of one of the fastest growing management companies within the entertainment industry, with 11 locations currently in the Western Ontario market. They provide some of the hottest venues, live bands, premier nightclubs, and Irish Pubs throughout London, Guelph, and Kitchener/Waterloo. However, with several venues to manage, they were experiencing difficulties with cash management and needed an effective solution fast.
The Problem:
Everyone makes mistakes. When employees are responsible for counting cash, errors can seem impossible to avoid. These simple mistakes can lead to inaccurate deposits. When this happens, multiple people need to get involved in order to determine what went wrong and to correct the issue. This is incredibly and unnecessarily time consuming.

Counting cash is labour intensive. Their employees were spending valuable time counting cash when they could be focusing their time and energy on more important tasks like serving customers and generating sales.

Prolonged exposure to cash is a security risk. Since employees had to manually count cash, they were exposed to cash for long periods of time.
Fill out the form on the right and download your copy of "Case Study CMG Entertainment" and find out how Cashtech Currency Products helped their client implement a process for their employees for better cash handling and security.