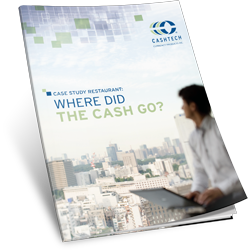 Our client is the business owner of a Quick-Serve Restaurant (QSR) with multiple locations and a manager for each location. The stores were plagued with high cash shrinkage and, on most days, cash reconciliation discrepancies.
When a discrepancy was uncovered or cash missing over $20, every level of management got involved in finding the cash: owner, manager and loss prevention specialist. And often the missing cash was never found. They knew the pressure to get customers served and processed quickly was critical to their success and often led to mistakes in cash handling.
And when their store managers were spending up to 4 to 5 hours a day just counting, reconciling and managing cash, that meant they were not out on the floor, having oversight of the customer volume, drive through lines, food preparation and processing.
The Problem
Their best employees (their managers) were spending 4 to 5 hours a day managing money, and NOT managing the customers;
Cash continues to be the dominant form of payment and over 70% of their transactions are in cash;
Cash management duties taking a combined average of over 12 hours a day for manager and cashiers per location;
Fill out the form on the right and discover how our solutions helped this restaurant reduce cash shrinkage and cash reconciliation discrepancies.