All Check Scanners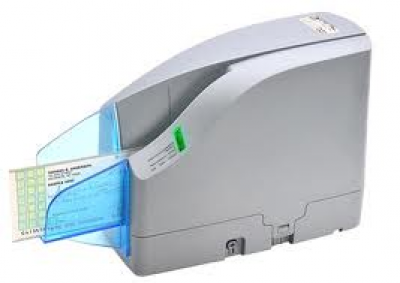 Overview
Digital Check CheXpress® CX30 Check Scanner
The single-feed Digital Check CheXpress® CX30 was the first check scanner designed specifically for business and consumer remote deposit capture, offering high speed and accurate MICR reading at an affordable price. With over 100,000 scanners deployed worldwide, it has remained our most popular and reliable model for scanning a check for remote deposit and check truncation since its introduction in 2007.
Built with solid metal base plate construction and designed to handle over a million items, the CheXpress CX30 check scanning machine offers high-quality performance. This digital check scanner also performs when it comes to image quality and MICR, delivering among the highest read rates in the industry. The Digital Check CheXpress CX30 transforms check scanning into a quick, quiet, and reliable process, making it the ideal corporate check scanning solution.
The CheXpress CX30 digital check scanner provides the high-quality image capture capabilities required for remote deposit capture, while adding a number of usability and energy-efficient enhancements for support of small business banking customers. CheXpress CX30 is uniquely suited for the current demands of the small business, merchant POS, or low-volume teller. It is compatible with all modern versions of Windows and certain Linux distributions.
The CheXpress CX30 also supports Digital Check's Special Document Handling feature, which makes your check equipment "smart" enough to read documents with dark backgrounds, multiple colours, and other marks that can cause errors in other scanners.
Specifications
CheXpress CX30 Features:
Bank Quality with Metal Baseplate for Long Term Operation
Low Cost for Small Business
Fast and Quiet Scanning
Low Cost for Small Business
Compatible with FFIEC Guidance
Intuitive to Use with Single Point of Paper Entry/Exit
Dual Adaptive MICR Read for Increased Accuracy
Multiple Image Capture Ensures Highest Quality Image
Print Before and/or After Image Capture
Optional Franker for Fraud Deterrence
Low Power Consumption/Sleep Mode When Not in Use
Uses DCC API with Special Document Handling
Unit Size:
Height: 7.47" (18.97 cm)
Depth 3.92" (9.96 cm)
Length: 9.38" (23.83 cm)
Weight 3.95 lbs. (1.8 kg)
Throughput:
Scan and Return Mode: Up to 15 documents per minute
Pass Through Mode: Up to 30 documents per minute