All Coin Sorters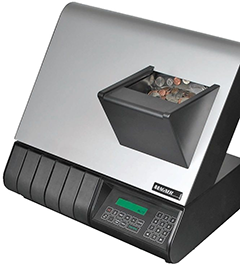 Overview
Magner Pelican 305S+ Coin Counter/Sorter/Packager
There are plenty of coin sorters and coin wrapping machines out there, if you don't mind the noise. But for businesses that need low operational noise, the options have been pretty limited — until now. Whether you work in an environment where a noisy coin machine could disrupt your customers, or you just don't like the racket, the Magner Pelican 305S+ is one of the best commercial coin sorters for your quiet operation needs.
The Pelican 305S+ counts and sorts the six US coins at speeds of up to 800 coins per minute using patented alloy sensor technology that automatically off-sorts foreign coins, tokens or slugs from the coin mix.
The Pelican 305S+ coin sorter can also be configured with coin tubing adapters, making it a coin sorter and coin wrapping machine in one. Additionally, the machine can be configured with a security stand to make direct bagging coins a breeze, with programmable bag stops to facilitate packaging.
To complete your coin processing center, add a journal printer to the configuration. The printer is available either as a free-standing unit, or built into the coin sorter on the Pelican Model 305P.
Available in the US Only.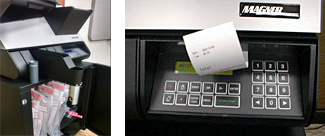 Specifications
Counting Speed

Approximately 800 coins/per minute

Counting Device

Alloy sensor

Reject Capability

Automatically off sorts foreign coins, tokens or slugs from the coin mix

Display

LCD, 2 lines, 20 characters

Coin Diameter

.5512 in. to 1.339 in. (14mm to 34mm)

Coin Thickness

Max: .1575 in. (4mm)

Hopper Capacity

Approximately 1000 U.S. dimes

Batching

Programmable exact bag stops

Sorting Method

Gravity rail

Dimensions

20.5 in. (W) x 13.2 in. (D) x 18.7 in. (H)
520mm (W) x 335mm (D) x 475mm (H)

Net Weight

48.4 lbs. (22 kg.)

Power Source

110/220 VAC

Power Consumption

33 Watts; .30 Amps; 24 V

Temperature Limits

+41° to +104° F (+5° to +40° C)

Other Standard Features

RS232 communications port
Denomination totals at batch and grand levels
Battery back-up
Six coin drawers

Optional Additions

Hand coin scoop
Mounted inspection tray, capacity approximately 3000 U.S. dimes
Security bagging stand with manifold and five bag attachments
35 column thermal printer (305S+P)

Tubing drawer for roll coin packaging