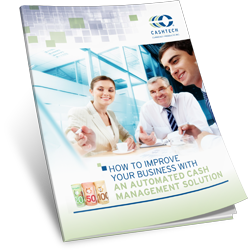 In today's market, keeping business practices up to date is necessary for long-term survival. New cash management practices can save you time and money. It's time to update your cash management practices.
In this eBook you will learn:
The Hidden Cost of Sloppy Cash Management
How Much Your Business is Losing from Poor Cash Management
CASHINFINITY – The Glory Retail Solution
Efficient Cash Management Benefits
If you want to succeed in today's evolving market, it's imperative that you continue to update your business practices.
---
Fill out the form on the right and download your copy of "How to Improve Your Business With an Automated Cash Management Solution" and find out how to automate your cash management solution and grow your business today.
---