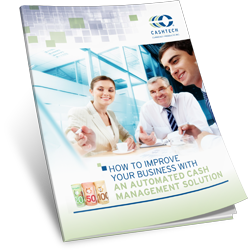 The cashless society of the future has yet to arrive, but that doesn't mean you need to stick with cash management practices from the Stone Age. It's high time to trade in that abacus for a sophisticated deposit safe or coin and banknote solution instead.
In fact, today's technological solutions can help you automate cash management from end to end. With depository safes, currency recyclers, and more, you'll give your business an edge in today's hypercompetitive market.
With this eBook you will learn about:
The hidden costs of cash management
How much your business is losing from poor cash management
CASHINFINITY – Coin and Banknote retail solutions
Commercial depository safes
The benefits of efficient cash management
Your business is evolving. Your cash management solution should too.
Ready to get started? Download this eBook and discover the best way to automate your cash management solution today.