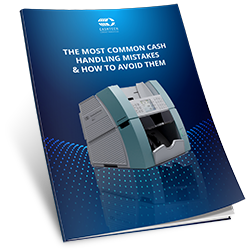 We've come a long way since the days of relying on an abacus and our own two hands for our counting needs.
But how many of today's businesses—restaurants, convenience stores, retail chains, casinos, and beyond—are really making use of the latest, most efficient cash handling practices, procedures, and technologies? How confident are you that your operation is dealing with cash management in the most effective way possible?
Think about the time and resources you're wasting on potentially irrelevant or outdated cash handling procedures. If you regularly encounter cash-related problems, it's time to make a change.
In this whitepaper, we take a look at:
Five common cash handling mistakes that may be costing you big time
How to recognize problems and implement key solutions
Ways to improve workplace efficiency and grow your business
Download this whitepaper to learn more about the most common cash handling mistakes and how to avoid them.