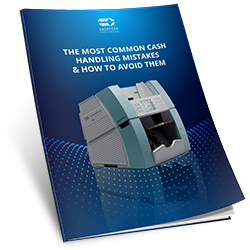 What do restaurants, convenience stores, casinos, and retailers have in common? Cash handling problems are par for the course in all these businesses.
Many of today's business operations are still wasting time and energy on irrelevant and outdated cash handling procedures. Could your business be one of them?
Outdated practices and procedures can give rise to cash handling mistakes. It doesn't have to be this way. From better training and improved visibility, to deposit safes and beyond, it's time to discover how better cash handling can help your business succeed.
In this whitepaper, we take a look at:
Five common cash handling mistakes that could cost you big time
How to recognize problems and implement key solutions, such as depository safes, coin and note recyclers, and other cash management technologies
Ways to improve workplace efficiency and grow your business
Avoid common cash handling mistakes and improve cash handling by downloading this whitepaper now.