What a Cannabis Dispensary Owner Needs to Know about Smart Safes and Cash Recyclers
Cannabis dispensaries generate a lot of cash – and that's a problem. Cash must be counted, sorted, and most of all, secured. Quite often a dispensary needs to use that cash again, either to load an ATM or to put back into the cash register. Then there's the danger of robbery, and the temptation of employee theft to worry about.
Fortunately, there's a solution – implement a Cash Management System, which for a cannabis dispensary typically means installing a Smart Safe or a Cash Recycler.
Smart safes and cash recyclers solve very different business problems related to cash in the dispensary, however. A cannabis dispensary owner needs to understand those differences before investing in a solution. Below we've summarized the differences, and offered some guidelines to follow when beginning the decision-making process.
Defining Smart Safes and Cash Recyclers
A smart safe automates the depositing of cash into a safe, and much like a smartphone or a smart thermostat, it is run by software which in turn provides a wide range of features and benefits that a "dumb" safe simply doesn't have.
A cash recycler automates the deposit and dispensing of cash – cash goes in, and some cash can come out, hence the term "recycler". Like with smart safes, software controls everything, but cash recyclers have even more functionality.
So, let's get into it.
Similarities and Differences between Smart Safes and Cash Recyclers
Let's start with the similarities. Each device has bulk acceptors that allow for the quick and easy deposit of cash. The notes are counted – and the acceptors even do a counterfeit check. The cash is stored in safes, which can hold thousands of notes. The software lets you see how much cash you have, 24/7, from anywhere in the world. Access to the device is also controlled by the software. You decide which employees can deposit or which can touch the cash inside. Every dollar deposited has an audit trail, so you know precisely who put the money in and when. Smart safes and cash recyclers can also manage coins, although that requires buying an add-on unit.
The key difference – and it's a big one – is smart safes only allow for the deposit of cash, while recyclers allow deposit and dispense. Cash deposited in a smart safe goes into a vault, and while the notes are automatically verified and counted, they are not sorted. Someone then has to sort the notes, either for pickup or delivery to a financial institution. Recyclers sort notes by denomination, so you can easily prepare a till for the beginning of day/shift or restock an ATM with 20s and 50s. Recyclers also have a larger capacity to store cash, and they can process cash much faster.
Another key difference is cost. This one is simple: smart safes are less expensive, about 30 – 50% less. Not surprisingly, then, while recyclers have far more functionality, that comes at a price.
Size is a final difference. Smart safes are smaller. They can even be put under the counter at the cash for easy deposit by the budtender. In fact, smart safes can be customer facing. The customer deposits the cash into the smart safe and receives the correct change – the budtender doesn't even touch the money! Recyclers are back-office devices, and there's no customer-facing option.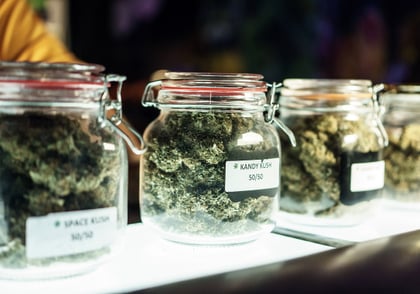 When should I Buy a Smart Safe and When a Cash Recycler?
There's no hard and fast rule, but these three guidelines will help you decide:
Does your dispensary do over $5,000 a day in cash? If so, then a cash recycler may be for you. Less than that, stick with the smart safe.
Do you have an ATM that you need to restock or do you need to recycle cash for your tills? If yes, then a cash recycler is a must. If this isn't important, then a smart safe is your best bet.
Is till preparation and your end-of-day process taking up too much of your budtenders' time? Again, go with the cash recycler.
Final Considerations
A final word of advice. Don't make this decision without consulting a cash management expert first. No two smart safes or cash recyclers are the same, and most of them can be configured to fit your current processes and your precise business needs. The choices can be overwhelming, but a professional will be able to guide you through it. Whether your cannabis dispensary is a single location, or part of a chain, the right cash management system will solve the problems caused by having cash in the dispensary- and also put in place a powerful platform for growth.