All Counterfeit Detectors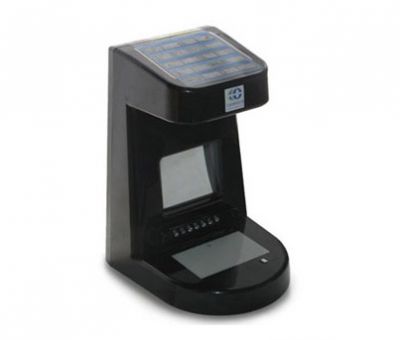 Overview
C990 Counterfeit Currency Detector
Protect your business from fake bills with The C990. This infrared counterfeit detector machine is an intelligent choice for anyone requiring currency authentication.
It is designed to catch the most complex counterfeit money by simultaneously using Infrared (IR), Ultraviolet (UV), Magnetic (MG) and Watermark technology.
Infrared detection can be used to authenticate over 60 different world-wide currencies, including Canadian & US currencies.
Ultraviolet and Watermark help the operator verify the authenticity of banknotes, as well as traveler's cheques, ID's, most driver's licenses and even credit cards. This C990 counterfeit money detector machine also includes magnetic detection to help authenticate US dollars.
Specifications
Weight

4.6 lbs including adaptor

Display type

Black and White camera and disply screen

Power supply

110 VAC, 60 Hz, Power adaptor

Dimensions

H 27.2 cm x W 18 cm x D 19.4 cm

Counterfeit detection types

Infrared, Ultraviolet, Magnetic & Watermark Identification

Features

Effective detection of bills from around the world
Automatic start
Power saving mode
Visual reference guide