All Check Scanners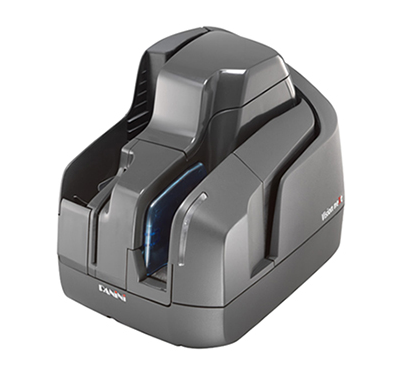 Overview
Panini Vision NeXt Check Scanner
The Panini Vision NeXt Check Scanner delivers quick processing speeds to satisfy the most time-sensitive and demanding check image scanning environments. The Panini Vision NeXt digital check scanner features automatic document alignment to ensure transaction accuracy and integrity, as well as multi-format document capture to fully extend your investment in the automatic check scanning process.
This check scanning machine also comes equipped with an economical multi-functional printer to enable a wide range of printing capabilities.
Specifications
Performance

100 or 160 documents per minute (dpm) throughput based on 6" check specification.

Feeder

Automatic document feeder with patented Advanced Auto-Alignment (3A) mechanism for maximum ease of use with minimized document preparation.
Integrated front-feed ID card duplex scanning.
Swing-open covers for full paper track access and easier maintenance.

Detection

Ultrasonic double feed detection for superior reliability against real & false double feeds.
Automatic inkjet cartridge detection and ink level monitoring.

MICR Reader

Advanced MICRPlus® magnetic reading including OCR correction – bundled with API for optimal MICR read accuracy.

Scanning

Grayscale or color duplex scanning in multiple resolution settings (100, 200, or 300 dpi), for maximum imaging flexibility.

Software Options

Optional OCR decoding, Barcodes decoding, IQA library.

Virtual Endorsement

14-line AGP (Advanced Graphic Printer) for rich item endorsement (multi-line text, graphics or intermixed), validation, cut sheet receipts, cashier's check and more – with unique cartridge capping and cleaning mechanism.

Optional Virtual Endorsement

4-line AGP and single-line rear ink jet versions also available.

Exit Pocket

Integrated exception pocket for real-time physical sorting of foreign items, incorrectly fed items, or other processing exceptions.

Interface

USB 2.0 connectivity with Microsoft WHQL certification for device recognition and simplified implementation.

SW Tools / OS support

Unified API (Vision API), in common with other Panini platforms.

Expandable, Multi-function Options

Inset 3-port USB hub, thermal receipt printer, card reading module (magstripe and EMV chip) – providing further compelling benefits for teller applications.