All Cheque Scanners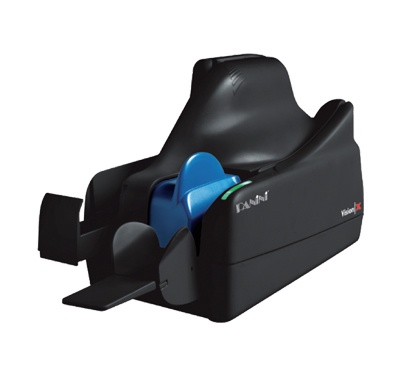 Overview
Panini Vision X Cheque Scanner
The Panini Vision X Scanner provides advanced cheque capture features and offers a state-of-the-art cheque scanning solution for the financial services industry. The price and performance of the Panini Vision X makes it an ideal option for bank cheque scanning and remote deposit.
This Panini cheque scanner offers best-in-class reliability for distributed cheque capture thanks to its system scalability, superior image quality, MICR read accuracy, and flawless document handling.
Specifications
Performance:

Three versions (software upgradable): VX 50: Up to 50 DPM. VX 75: Up to 75 DPM. VX 100+: ≥100 DPM. Performance declared for 6'' checks. Final performance depends on applications and PC performance, and Panini Vision API release. Anticipated maximum performance for VX 100+ is 125 DPM. USB 2.0 interface.

Automatic Document Feeder:

Three versions (software upgradable): Single document automatic drop – 1F version. Holding up to 50 documents – SF version. Holding up to 100 documents with unlimited continuous feeding – FF version. Double feed detection with ultrasonic technology.* Auto-tuning separator rollers designed to process documents with varied thickness and to compensate for normal wear. *In particular environmental circumstances and typically at ver y high altitude, a special calibration could be required. Please contact your provider for further details.

Inkjet Printer:

Two versions (software upgradable): Rear inkjet printer (IJ version). No inkjet (NJ version, software upgradable). Printing capability: single line, alphanumeric characters, all MS Windows fonts. Reg CC compliant. Intelligent printing, image and MICR driven (SmartJet). Automatic cartridge presence detection and empty cartridge alert. Note: AGP version (Advanced Graphics Printer) is also available as a printing option.

Total Compatibility and Scalability:

Total backward compatibility for software API > release 3.00. Full scalability (for software options) throughout the range, via software upgrade.

Pockets:

A single exit pocket capable of holding up to 100 documents.

Workspace:

Extremely compact footprint — ideal for teller, back office and business installations.

Documents Specifications:

Height: Min. 54 mm (2.12'') – Max. 106 mm (4.17'').
Length: Min. 80 mm (3.14'') – Max. 235 mm (9.25'').
Weight: Min. 60 gr/m2 (16 lbs.) – Max. 120 gr/m2 (32 lbs.).

Interfaces:

USB 2.0 port/backward compatible with USB 1.1. RS232 port for external device connection (SW/FW developments on request).

Magnetic Reader:

E13B/CMC7/automatic.
Panini MICR Plus® exclusive technology with OCR assist feature.
Superior MICR recognition and management.

Image Capture:

Scanning: next generation Contact Image Sensor (CIS) technology (front and rear). Image format: bitmap in B/W, 256 shades of gray, color (Fast and True) drop out mode. TIFF, JPEG and G4 compression. Image resolution: 100, 200 or 300 dpi. Advanced dynamic thresholding. Superior auto calibrated image quality. Dual image: up to five images (three front + two rear) in one document pass.

Software Tools:

Panini Vision API control running on: Windows 2000 S.P. 3, Windows XP S.P. 1, Windows Vista, Windows 7 with USB 2.0 or USB 1.1. ICR vision function for image snippet definition and download. Easy integration of ICR/barcode/OCR recognition technology.

Additional Options:

HW: three track magnetic badge reader. HW: IR (infrared) or UV (ultraviolet) front image capture for security applications. HW: external dongle for temporary and device independent upgrades. SW: OCR recognition: OCR-A, OCR-B. SW: 1D barcode recognition: Code 39, Interleaved 2/5, EAN8, EAN13, UPCA, UPCE, Code 128. SW: 2D barcode (PDF417, Datamatrix). SW: Image Quality Assurance (IQA) library.

Application PC Minimum Requirements:

VX 50, VX 75: Intel Pentium IV, 1.2 GHz, 512 MB RAM. VX 100+: Intel Pentium IV, 2 GHz, 512 MB RAM.

Diagnostic Features:

On board diagnostics: tests the functionality of the scanner. Power-on self testing: automatic self testing and photocells calibration when powering the unit.

Maintenance:

Maximum accessibility to every component to minimize MTTR. Total access to scanner and track area. Firmware upgradeable via PC.

Input Voltage:

Autosensing from 100 to 240 VAC, 50 to 60 Hz.

Dimensions and Weight:

Height: 175 mm (6.88'').
Width: 138 mm (5.43'').
Length: 264 mm (10.39'').
Weight: 2.5 kg (5.73 lbs.).