All Check Scanners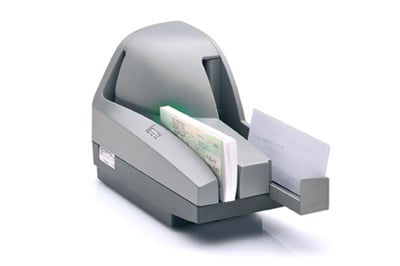 Overview
Digital Check TellerScan® TS240 Check Scanner
The Digital Check TellerScan® TS240 batch-fed check scanner is the best bank check scanning solution for teller capture and branch capture needs. This corporate check scanning solution is powerful enough to handle the highest volume scanning at the branch back counter while maintaining the small footprint required at the teller window. The TellerScan TS240 is also a suitable option for businesses with large-scale remote deposit capture and document scanning needs.
The Digital Check TS240 boasts a 100-item feeder and speeds of up to 150 documents per minute. Choose from a variety of specialized models for your specific check scanning for business or bank check scanning needs:
TellerScan TS240/TTP: The first teller capture check scanner with a built-in thermal teller transaction printer — a single device to handle both teller capture and customer receipt printing.
TellerScan TS240-UV: Uses an ultraviolet camera to scan checks with UV security features in either a teller capture or RDC environment. Enhanced processing power helps the Digital Check TS240 scan in both UV and visible light simultaneously without sacrificing speed.
TellerScan TS240-150: The newest member of the TellerScan series, this check scanning machine can scan up to 150 documents per minute (DPM).
TellerScan TS240-IJ: Incorporates our most popular add-on, an InkJet endorser, to print up to four lines on the rear of a document.
Digital Check's Special Document Handling feature, available with all Tellerscan TS240 models, intelligently adjusts contrast and sensitivity for difficult-to-read documents, reducing the number of errors for teller capture and branch capture operations.
Specifications
TellerScan TS240 Features
Available in speeds of 50, 75, or 100 DPM
Up to 100-item feeder and exit pocket capacity
Special Document Handling to clean up difficult images
Compatible with Windows XP/Vista/7/8
Compatible with Mac OS X and some Linux distributions
Built-in diagnostics
Compatible with Digital check Advisor Remote Monitoring and Management Service
Either single-line or up to four-line endorsement available
Available franking option
Available with ENERGY STAR power management