All Coin Sorters and Counters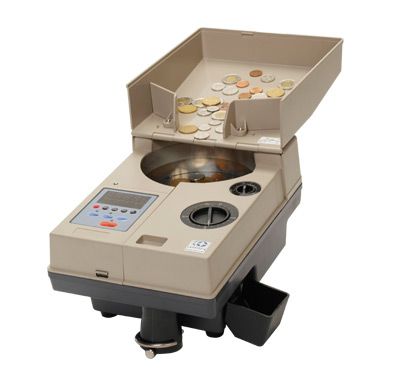 Overview
CC200 Coin Counter
The CC200 commercial coin counter and sorter is a powerful tool for businesses and organizations handling high currency volume. This robust yet operator friendly unit features all-in-one coin processing, at speeds of up to 2,000 coins per minute.
The CC200 is also a powerful automatic coin wrapper, with invaluable features such as portable design, programmable bag stops for bagged coin output, and batch stops to produce coin rolls.
The CC200 can even count coins in mixed denominations, packaging the selected denomination, and filtering other coins into the off-sort slot.
Specifications
Width

8 kg (17.7 lbs)

Countable coin size

Min. 14 mm to Max. 34 mm diameter
Min. 1 mm to Max. 3.4 mm thickness

Counting speed

2000 coins per minute

Display type

LED:5 digit count, 4 digit batch

Hopper capacity

1500 coins

Batching

Programmable bag & batch stops, Variable 1 to 9999

Power supply

115 or 230 VAC, 50/60 Hz

Dimensions

H 18.5 cm x W 24 cm x D 40 cm

Features

Small coin off-sort capability
Off-sort bagging attachment
Carrying Handle
Hinged coin tray folds for easy storage
Simple denomination change-over
Reverse clearing function

Options

Coin tubes in CDN and\or US denominations
Remote display
Cloth or plastic coin bags