Coin Solutions
Quick and accurate sorting and counting is an essential part of your cash management process. Let us help you:
Save Time – Reduce time that employees spend counting coins and currency by hand with coin counters and sorters.
Increase Accuracy – Coin is cumbersome and difficult to count accurately. One mistake can add up to 20 minutes when a till needs to be recounted. Simply sorting 5 to 6 denominations in itself can take several minutes and lead to a miscount.
Reduce Losses - A miscount of a few nickels may not be a big deal but miscounts of loonies and toonies quickly add up to significant losses. Coin counters/sorters are quick and accurate and reduce losses.
Stay Clean – Let's face it, coin is dirty. Keep your staff clean and germ free with less handling of coin.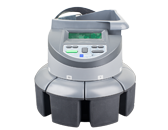 Coin Sorters and Counters
The coin sorter is one of the many cash handling machines that offer easy and quick handling of small as well as large volumes of coin on a regular basis. Often conceived to meet both sorting and counting needs, the coin sorter is top of the line equipment that boasts increased performance, low maintenance, and ease of use.
View All