All Coin and Note Recyclers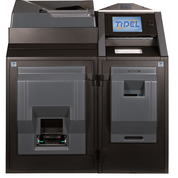 Overview
Tidel TR253 Banknote and Coin Recycler
The Tidel TR253 coin and cash recycling system is designed for organizations that handle large volumes of banknotes and coins on a daily basis. With a volume capacity of over 10,000 banknotes at a processing speed of 8 banknotes per second, the TR253 offers the performance and capacity required of cash management solutions in high volume, transaction-heavy cash room environments.
The TR253 cash and coin recycler also accelerates and secures start and end-of-shift processes, which means less time counting cash, and higher productivity.
As a cash management solution, the TR253 is ideal for a high volume back office, providing better accuracy and accountability, faster processing, and greater efficiency from store floats to Cash in Transit (CIT) pickups.
Specifications
Note

Recycle Denominations

up to 4

Recycle Capacity

4 recycling cassettes x
2,100 notes each =
8,400 total note recycling
capacity

Deposit Capacity

2,100 notes (Configurable
up to 10,500 notes
deposit
by configuring recycle
cassettes to deposit only)

Total Capacity

10,500 notes

Deposit Speed

8 notes/second

Dispense Speed

8 notes/second

Coin

Recycle Dimensions

Up to 4

Recycle Capacity

5 coin hoppers; each hopper can hold:
US:
1¢: 6,800 coins
5¢: 4.200 coins
10¢: 9,600 coins
25¢: 3,700 coins
CDN:
5¢: 4.200 coins
10¢: 9,600 coins
25¢: 2,800 coins
$1: 2,700 coins
$2: 2,300 coins

Deposit Speed

3,000 coins/minute

Dispense Speed

8 coins/second/hopper

Weight

1,822 lbs. (826 kg)

(W x D x H)

41.5" (1,054 mm) x 41.2" (1,046 mm) x 49.53" (1,258 mm)
Supplies