All Coin and Note Recyclers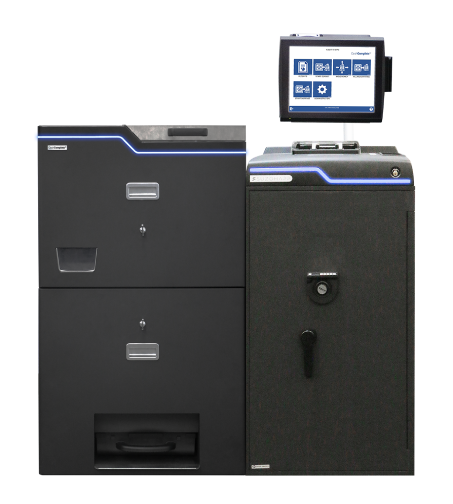 Overview
SUZOHAPP RCS-700 + RCS Active Banknote and Coin Recycler
The SUZOHAPP RCS-700 + RCS Active Banknote and Coin Recycler combine to give you optimal control of your cash management process with a complete cash recycling system. This cash handling machine for banks, large retailers, casinos, and other cash-intensive businesses uses next-level technology to quickly and efficiently process, sort, and count banknotes and coins.
The SUZOHAPP RCS-700 Cash Recycling Solution fully automates your cash handling, allowing you to retrieve real-time cash flow data from your computer or mobile device whenever you need it, for optimal visibility and smarter decision making.
And with a recycling capacity of up to 13,600 notes and dispensing speeds as high as 600 notes per minute, improving cash management has never been simpler.
The SUZOHAPP RCS-Active Coin Recycler unit seamlessly integrates into the RCS-700 Banknote Recycler and employs Active Sorting® with advanced sensor technology to identify, sort and actively reallocate coin positions within the device, providing higher throughput.
This enables your organization to achieve up to 2,000 coins per minute throughput, for efficient coin processing and quick end-of-shift deposit procedures. A massive 32,000 coin capacity makes administration of your cash management solution more efficient as well.
All SUZOHAPP cash management products can be integrated with the CashComplete™ Connect platform. This cloud-based payment management platform connects all cash management technology into one ecosystem to provide a comprehensive view of what's happening across the entire organization. With CashComplete™ Connect, effective cash management is easier than ever.
Specifications
SUZOHAPP RCS-700 Banknote Recycler Specifications

Software

CashComplete™ On-Device

Counting Speed (Deposit/Dispense)

10 notes/second, up to 600 notes/minute continuous feed

Recycling/Deposit Capacity

9,000 - 13,600 notes / 2,800 - 4,600 notes

Double Recycling Cassette

Yes, 1,800 + 450 notes = 2,250 note capacity

Denominations

Up to 8 denominations to be recycled (If using four Dual Recycling Cassettes)

Configurable Cassettes

1-4 cassettes with single or double compartments

Safe Rating

UL 291 (CEN IV on request)

Size (WxDxH) without PC

21" x 37" x 42" (53 x 93 x 105 cm)

Power and Frequency

100-240 VAC, 50/60 Hz
SUZOHAPP RCS-Active Coin Recycler Specifications

Deposit Speed

Up to 2,000 coins per minute

Dispense Speed

Up to 2,400 coins per minute

Recycling Storage

Up to 23,400 coins / 8 coin hoppers (4 x 2)

Storage Pickup / Overflow

Up to 8,650 coins

Total Capacity

32,050 coins

Denominations

Up to 8 denominations to be recycled, international currencies available

Size (WxDxH) without PC

26.97″ x 29.78″ x 45.61″ (685 mm x 756 mm x 1,158 mm)

Voltage and Frequency

100-240 VAC, 50/60 Hz
| | | | |
| --- | --- | --- | --- |
| CashComplete™ Connect | Basic | Enterprise | Retail |
| Real time dashboards with machine, cash and user status | X | X | X |
| Real time machine error notification | X | X | X |
| Basic reporting for machines, cash, users and transactions | X | X | X |
| Configure and modify machines, users and sites | X | X | X |
| Multi language and currency supported | X | X | X |
| Advanced reporting and analytics | | X | X |
| Real time alerting via email and SMS | | X | X |
| Centralized machine user management | | X | X |
| Smart Groups™ for sites and machine users | | X | X |
| Advanced user permissions | | X | X |
| Advanced REST API for full read/write access to data | | X | X |
| Support for selected third party devices | | X | X |
| Retail cashier balancing including POS integration | | | X |
| Retail operations dashboard | | | X |
| Service Level Agreement | N/A | X | X |
Supplies