All Check Encoders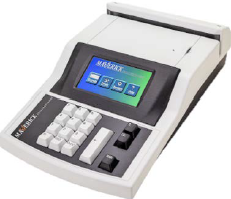 Overview
MX-3 Touch Check Encoder
Maverick's new MX-3 Touch Exception Item MICR Encoder has both a standard keyboard for quick entry and a touch screen for navigation. Snap in a ribbon, select a function tile via the touch screen, key in the data, and begin encoding. It's really just that easy.
The MX-3 Touch Exception Item Encoder provides full function programmability for maximum flexibility. Program a variable length field when you want and eliminate the cost and lost time associated with programming changes.
With state-of-the-art circuitry and a stout mechanical design, the Mx-3 Touch eliminates downtime. The MX-3 Touch meets or exceeds the rigid ANSI MICR specifications for MICR encoding and features a ribbon cartridge that is simple to change with absolutely no mess. This unit is lightweight, compact, and is a perfect fit for a small work centre.
Specifications
| | |
| --- | --- |
| Speed | 45 dpm |
| Length | 13.25 inches (33.7 cm) |
| Width | 8.0 inches (20.32 cm) |
| Height | 3.5 inches (8.89 cm) |
| Weight | 4.25 pounds (1.93 kg |
| Display | 3 x 4 full color touch screen |
| Ribbon | Average yield of 25,000 - 30,000 characters 100-240 VAC, in-line desktop |
| Power | Non-Volatile, FLASH ROM |
| Memory: Encode Capability | Single, multi, or 65-character full field |
| Font | E13B / CMC7 |