All Coin and Note Recyclers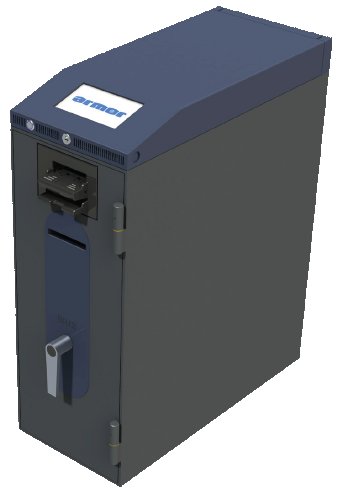 Overview
Armor Safe CacheNET™ 360
The CacheNETTM 360 recycler safely automates the management of cash wherever it is collected. With its incredibly small footprint for a recycler solution, the CacheNETTM 360 can be deployed by retailers at the point of sale or as a back-office or bank branch solution. The configurable design ensures it can work for any retailer. And the hardware configuration can be scaled up to match a retailer's evolving needs.
Collect and secure cash; validate and recycle funds; highly configurable; and audit and report activity.
Can be configured to communicate with CashTechIQ software.
Specifications
Dimensions
11 7/8" W x 26" D x 32" H // 300mm W x 660mm D x 810mm H

Approximate weight

485 lbs / 220 KG

User-friendly

7" touchscreen for ease of use & faster end-user training

Speed

Counts or dispenses up to 3 bills per second

Total Capacity

Dispensing capacity 30 bills per transaction

2 Recycling Cassettes 240 bills each

1 Deposit Cassette 1500 bills

1 Loading Cassette 500 bills

Equipped with

8mm thick ballistic steel self-locking vault door with adjustable hinges

6mm thick ballistic steel enclosure

External hinges capable of opening 180o

Deposit area capable of holding up to 50 notes

Four floor holes for bolt down
Supplies